Nestled in the foothills of Mount Yarrahapinni on the Mid North Coast of NSW is the small rural community of Yarrahapinni. This sub-tropical paradise is located between South West Rocks and Macksville, about 6km from the Pacific Highway and 4km from Stuarts Point, the nearest coastal town. The local farmers run beef cattle, while orchardists produce fruits and nuts such as bananas, avocados, peaches, macadamias and pecans. The area boasts beautiful hinterland, Macleay River and coastal scenery.
The local Uniting Church faith community has served the Yarrahapinni community for many decades from a small, friendly church, set among grassy paddocks. The locals are always pleased to welcome visitors or new members of the community.
Yarrahapinni is part of a group of congregations known collectively as the Lower Macleay River Multi Centre and, as well as Yarrahapinni, includes the South West Rocks and Gladstone congregations. The three congregations share Rev David Kim.
---
Coronavirus impacts
Currently there are no physical worship or other gatherings.  We still connect in other ways.
Resources on how to handle this pandemic are available on the National Assembly and NSW/ACT Synod websites.
See also relevant posts on Presbytery News and Synod News.
---
Service and Activity Times
Sunday Services, 5:00pm 2nd & 4th Sundays of each month.
Op Shop is open at 8.00am on the second Saturday of each month. The shop is located on the corner of Ocean Avenue and Sixth Avenue, Stuarts Point.
Induction of Rev David Kim
The Rev David Kim was inducted as Minister for the Lower Macleay River Multi Centre at a service at South West Rocks on 17 February 2019.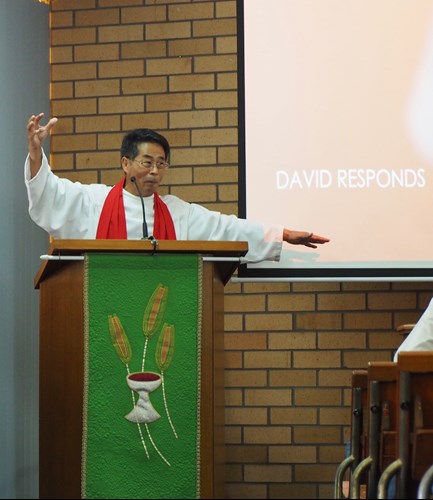 Yarrahapinni is part of the Mid North Coast Presbytery - its website provides resources and further information about the Uniting Church in Australia.